TOKYO, Japan - September 15, 2023 - Thirdverse, Co., Ltd is pleased to announce the upcoming release of its new VR title, VR Tactical Action "SOUL COVENANT," developed by Thirdverse Tokyo Studio. The game is set to launch on PlayStation®VR2, Meta Quest 2, and PCVR in early 2024. In conjunction with this announcement, Thirdverse has released a teaser trailer and an official website. Additionally, the game's first playable build (TGS special edition) will be available for the world's first trial at the Tokyo Game Show 2023, held September 21-24, in the VR/AR area.
Official Website: http://soul-covenant.com
Teaser Trailer
Challenge your fate x Like never before
Set in a near-future desolate Japan, this game depicts a fierce battle between humanity and machines.
That ecstatic feeling when overcoming the seemingly impossible challenge of certain doom will reward those who brave the storm.
The moving experience of a story of life told through death. It is through the eyes of the fallen and the experiences of the vanquished that you will find their sacrifices serve to guide your hand in retribution.
A VR Tactical Action game experience with a high level of immersion, where the player will be one with the protagonist and take on a battle for the fate of the world.
『SOUL COVENANT』STAFF
The game is being developed as the culmination of VR action that Thirdverse has cultivated so far. In addition to the immersive action, the game aims to create a more dramatic world by assembling a team of exceptional creators in each field, such as story, music, and character design. Please look forward to the soul-stirring battle sensation and emotional experience they have created.
Director / Scenario Writer
Teruhiro Shimogawa
[Game Credits]
""SOUL SACRIFICE"" series, ""Mega Man Battle Network"" series, ""Ace Attorney Investigations 2"" and more."
Character Design
Shogo Matsuo
[Game Credits]
""NieR Re[in]carnation""、 ""BLADE XLORD"" and more."
Composer
Yasunori Mitsuda
[Game Credits]
""Chrono Cross"", ""Xenogears Episode I"", ""New Light Myth: Palutena's Mirror"", ""SOUL SACRIFICE"" series, ""Inazuma Eleven"" series, ""Xenoblade"" series, ""FINAL FANTASY XV Episode Ignis"" and more."
Producer
Koh Okamura
[Game Credits]
""Blue Dragon,"" ""The Last Story,"" ""SOUL SACRIFICE"" series, ""DYSCHRONIA: Chronos Alternate"" and more."
Executive Producer
Teruyuki Toriyama
[Game Credits]
""SOUL SACRIFICE"" series, ""Bloodborne,"" ""ASTRO BOT: RESCUE MISSION,"" ""Demon's Souls"" and more."
Overview of『SOUL COVENANT』
Title Name: SOUL COVENANT
Supported Platforms: Meta Quest 2 / Steam / PlayStation®VR2
Genre: VR Tactical Action
Release Date: First half of 2024
Discord:https://discord.gg/DVdqRyWZKt 
Twitter:https://twitter.com/soulcovenant_en 
YouTube: https://www.youtube.com/channel/UCq8Zj12h5fLGR0zDAV3bPsQ

Copyright:©Thirdverse, Co., Ltd. 
Overview of Tokyo Game Show 2023 Exhibition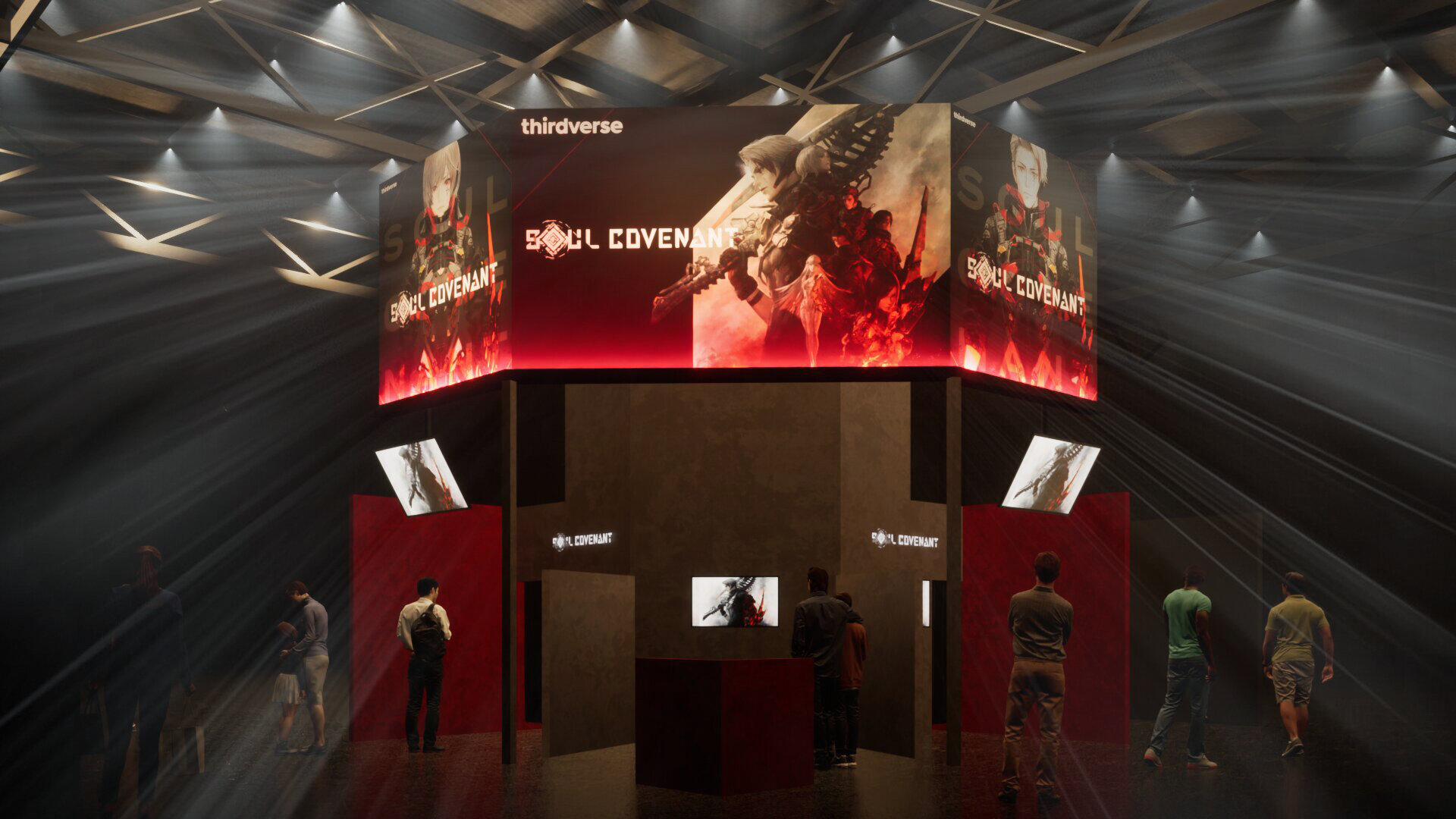 List of Promotional Giveaways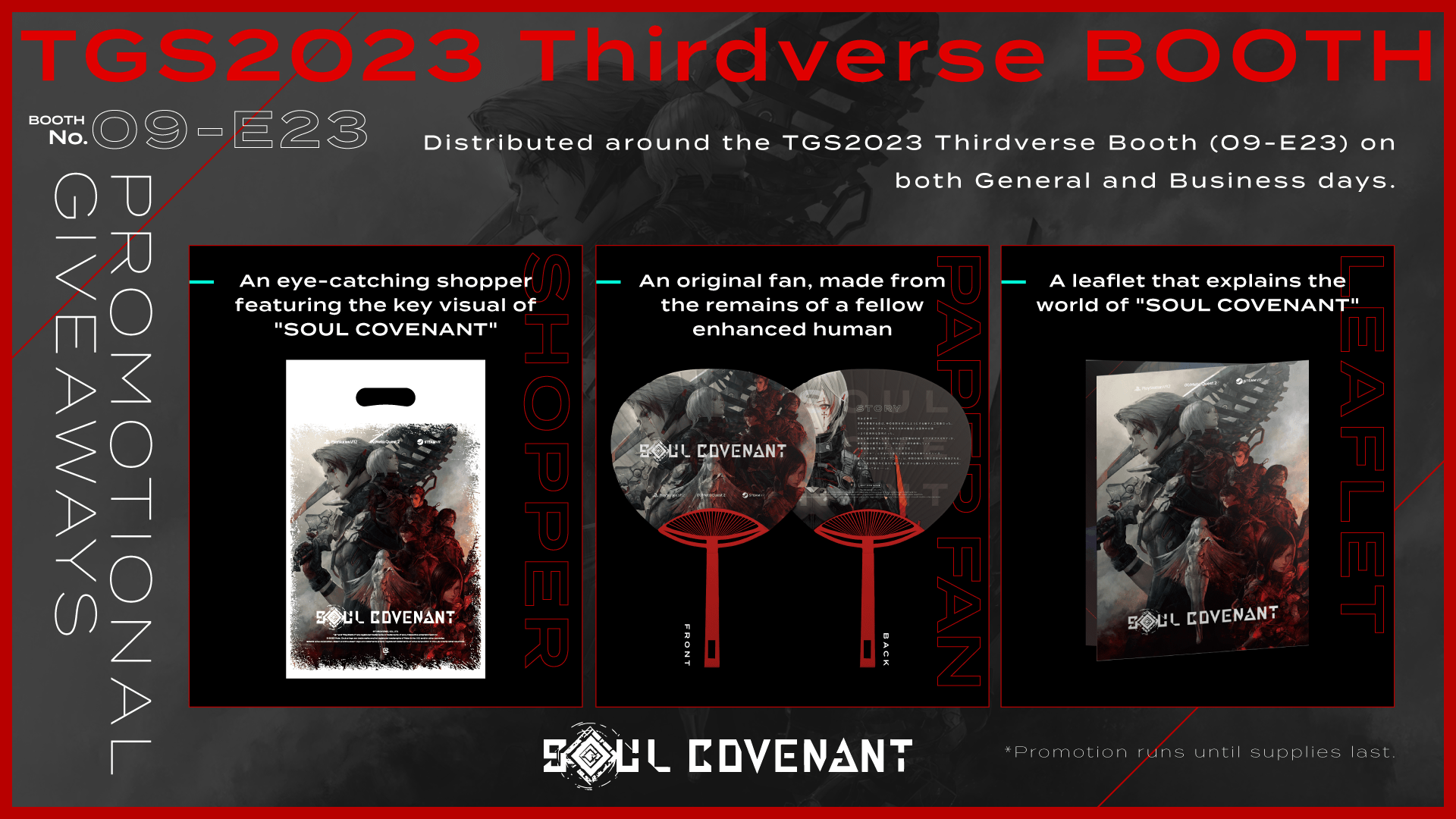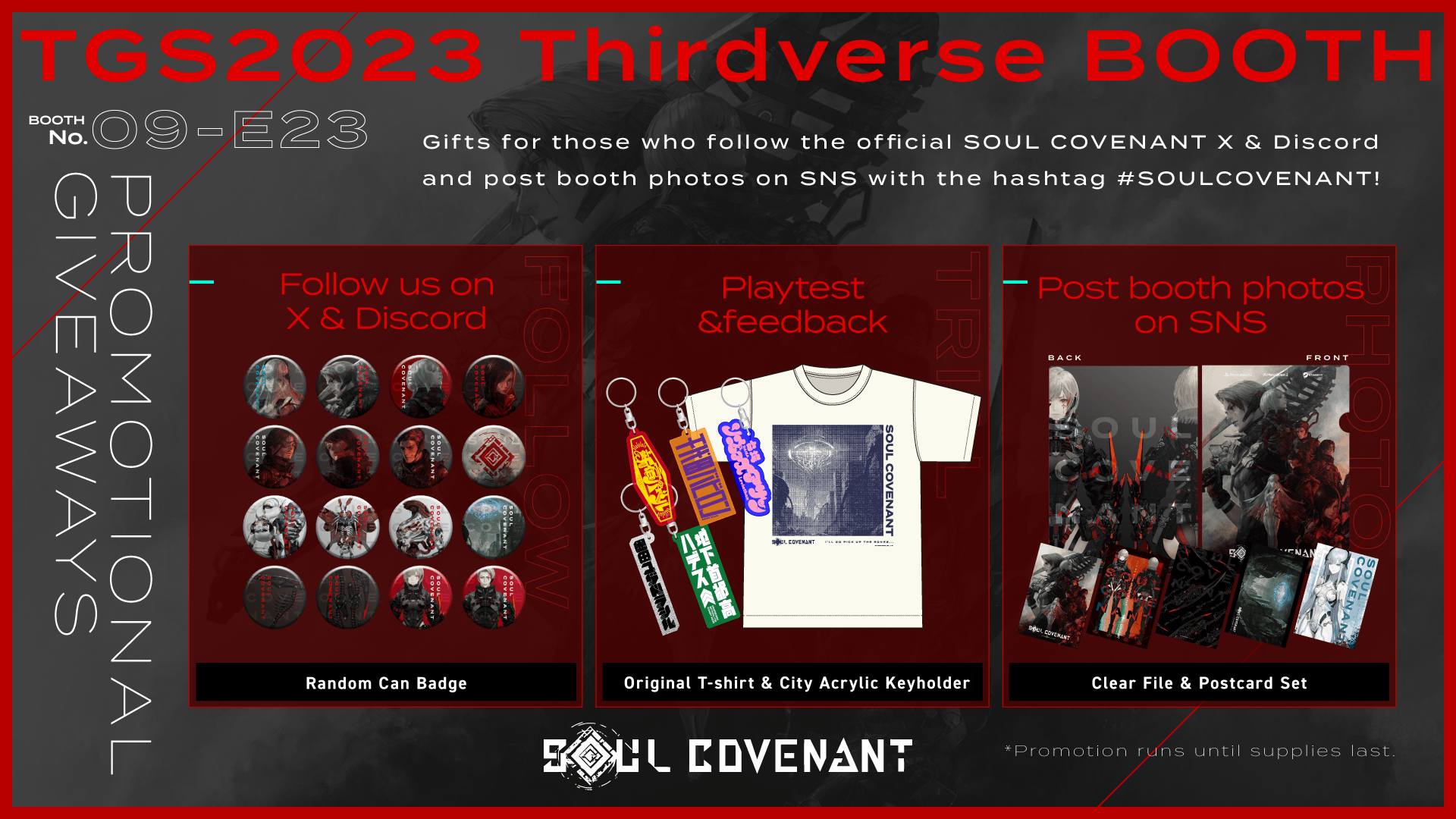 "SOUL COVENANT" can be experienced at the Thirdverse booth (9 Hall 09-E23) located in the VR/AR area of the International Exhibition Hall 9. At the booth, we will also feature 3D hologram signage displaying characters and distribute novelty goods. 
Don't miss the chance to experience the overwhelming presence of this VR title at the venue!
About Thirdverse, Co., Ltd
Founded in 2020, Thirdverse, Co., Ltd is a virtual reality game development, distribution and management company paving the path to the metaverse with two studios in Japan and the United States. In August 2022, the studio launched its next-generation sword-fighting VR title "ALTAIR BREAKER'' for Meta Quest 2 and PCVR. In September, Thirdverse announced a new multiplayer VR tactical hero shooter title called "X8'' developed by its US Studio, and exhibited the game to the public for the first time at the Tokyo Game Show 2022. In November, they announced that both titles are joining the lineup for PlayStation®VR2. Currently, Thirdverse plans to strengthen the recruitment of VR game creators for the development of new titles, scheduled for release in 2023 and beyond. For more information, visit www.thirdverse.io.
Location: KANDA SQUARE 11F WeWork, 2-2-1 Kanda Nishiki-cho, Chiyoda-ku, Tokyo
CEO: Hironao Kunimitsu
Corporate Site: https://www.thirdverse.io/en/